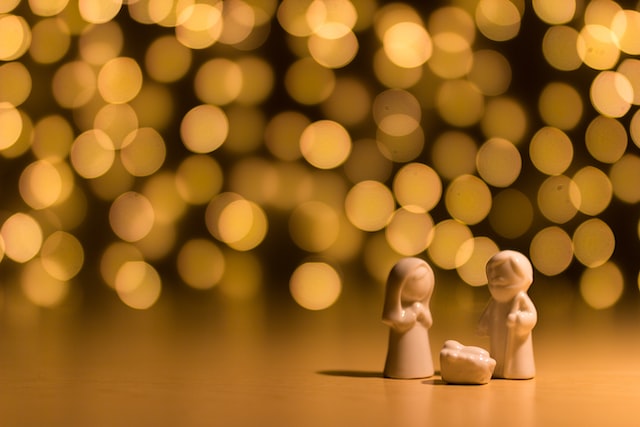 The Divine Decree
As we prepare to celebrate the birth of Jesus Christ, I want to take a moment to recognize someone seldom spoke of who played a major role in both the birth & life of Jesus. Much has been written about Mary, and deservedly so, but the role Joseph played, her husband, should not be diminished. A descendent of David, very little was written in the Bible about the man who functioned as the human father of Jesus. For God to choose him to help raise His son speaks volumes about his heart, his character, and his faith.
"And the angel answered and said unto her, The Holy Ghost shall come upon thee, and the power of the Highest shall overshadow thee: therefore also that holy thing which shall be born of thee shall be called the Son of God." ~ Luke 1:35 KJV
This event took place while Joseph, a carpenter by trade, was betrothed / engaged to Mary, and it turned their world upside down. To provide a little more context, the custom of being betrothed was much more serious than how we view engagements in the current age.
"Once the betrothal was entered into, it was absolutely binding. It lasted for one year. During that year, the couple were known as husband and wife, although they had not the rights of husband and wife" ~ William Barclay (New Daily Study Bible, 2001, Vol. 1, p. 22).
Because they didn't have the rights of husband and wife, they were not allowed to consummate their union until after the wedding. If the couple decided during this time to end the relationship, the only way the betrothal could be terminated was by divorce.
"But while he thought on these things, behold, the angel of the Lord appeared unto him in a dream, saying, Joseph, thou son of David, fear not to take unto thee Mary thy wife: for that which is conceived in her is of the Holy Ghost." ~ Matthew 1:20 KJV
Now, imagine if you will. The love of your life. Your fiancé. The woman you plan to spend the rest of your life with. Tells you she's pregnant. Not by you. By the Holy Spirit. She tells you she's carrying God's baby. Let that marinate for a minute. Personally, I wouldn't even know where to start. This goes beyond insulting my intelligence…because she clearly believes I have none in my possession. This woman thinks I'm just plain stupid. Joseph's initial decision to divorce Mary tells me he somewhat shared my sentiment.
The way Joseph chose to handle the situation reveals a lot about his heart, though. I would imagine his heart was broken, and that he also felt betrayed, but his love for Mary was stronger than the negative emotions he may have experienced. Had he been a vengeful person, he could've exposed Mary's perceived transgression, and put Mary & her unborn child's well-being at risk, as well as her family. Adultery was considered a serious crime during that time, and the exposure would've brought tremendous shame to Mary & her family. Because of his love & concern for her, he opted to quietly end the engagement to protect Mary & her baby. For this reason, God instructed His angel to speak to Joseph in a dream, confirming the Holy conception, to put Joseph's fears at ease.
"Then Joseph awoke from his sleep and did as the angel of the Lord had commanded him, and he took Mary [to his home] as his wife, but he kept her a virgin until she had given birth to a Son [her firstborn child]; and he named Him Jesus (The LORD is salvation)." ~ Matthew 1:24-25 Amplified Bible
It was Joseph's faith in God that enabled him to follow the divine decree given to him by the angel. He welcomed Mary & her unborn child into his home ensuring the safety of them both, and refrained from consummating the marriage until after the birth of Jesus. This is another example of the integrity he possessed. He knew the moment was bigger than him, leading him to keep his carnal desires in check. The events that followed are still being discussed & celebrated until this very day.
"For unto you is born this day in the city of David a Saviour, which is Christ the Lord." ~ Luke 2:11
As Godly men, we should aspire to follow the example set by Joseph. If you ever find yourself in love with a woman with a child, or children, conceived by another, allow God's love to be displayed through you. Choose to love her children, as well as her, with all your heart. Be a positive guiding light in their lives. Even God felt it necessary for His son to have an earthly father. If you weren't raised by a father, then be the father you wish you had. Break the cycle and allow God to flourish through you. Despite what many would have you to believe…your presence is needed more than you know.
*Affiliate Link
Follow Terrance L. Moore on Instagram